Welding Colum and Boom is to send the welding head or welding torch and keep the position to be sold, or Is a device that moves the flux at a selected welding speed along a defined trajectory.
Welding Colum and Boom is the core of welding center. It is composed of column, boom, lift mechanism, control system, welding system and lock mechanism, travelling trolley mechanism, rotation mechanism. There into, rotation mechanism, lock mechanism and travelling trolley mechanism are the options of the whole equipments.Customers may choose proper equipments as per the work piece.
The automatic welding column and boom is widely used in pressure vessel, refrigeration plant, power plant, wind tower generatingequipment, aviation, metallurgy industry, engineering plant, watercraft manufacture, roller resurfacing welding,petrochemical industry and so on.
Chuck type saddle Automatic Welding Machine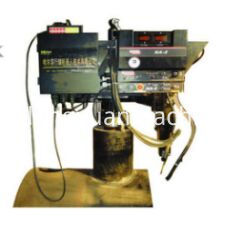 Scope of application:
This machine can be applied to various industrial fields,such as pressure vessels for the chemical industray,station boiler,nuclear power equipment,food and pharmaceutical equipment,ship and ocean engineeing,national defense industray and so on.It can be applied to saddle welding on Cylindrical shell, conical shell, ellipsoidal head and so on.
Performance characteristics:
• This machine is a four axis CNC system,it can make saddle welding on curved surface such as barrel , ellipsoidal head plate. The intersecting holes form can be orthogonal, eccentric vertical intersection,etc.
•On-line teaching function can automatically generate correct reference input parameter theory of intersecting trajectories,and remove the movement error caused by the non- standard workpiece to achieve precision weiding.
• Parametric input, Automatic exhaust channel, partition setting of welding parameters ,etc.All these functions make welding simple and quick .
• Fixed mode of chuck type and flow operation make it fexible and convenient at work.
• Two different welding modes for choice: ubmerged arc welding and gas shielded welding.
Technical parameters :
| | | | |
| --- | --- | --- | --- |
| Type | HJ400A | HJ900A | HJ1500A |
| Tactical diameter | 100-400 mm | 300-900 mm | 100-1500 mm |
| Saddle quantity | ≤250 mm | ≤350 mm | ≤450 mm |
| Wire diameter | 2/2.4 mm | 3/4 mm | 3/4 mm |
| Welding thickness | ≤200 mm | ≤200 mm | ≤200 mm |
| Height of nozzle | ≤600mm | ≤800 mm | ≤1000 mm |