Turning rolls refers to the use of welding pieces and the friction between the active roller to drive the cylindrical welding device rotation device. Self-adjusting turning roller for circular tube welding, the distance between the rollers can be adjusted according to the size of the cylinder, a variety of specifications for the user to choose the turning roller.
As per the market demanding, we have developed and designed kinds series of turning rolls to satisfy the customer`s requests, such as KT series adjustable turning rolls, KTS serise manual adjustable turning rolls, KTD series electric adjustable turning rolls, KTF series heavy duty anti-creep adjustable turning rolls and ZT series self-aligning turning rolls. As per the customer`s requests, we can design ang manufacture non-standard turning rolls, such as turning rolls with trolley, inclining turning rolls, hydrulic elevation turning rolls and assembly turning rolls and so on.
KT Series Adjustable Welding Turning Rolls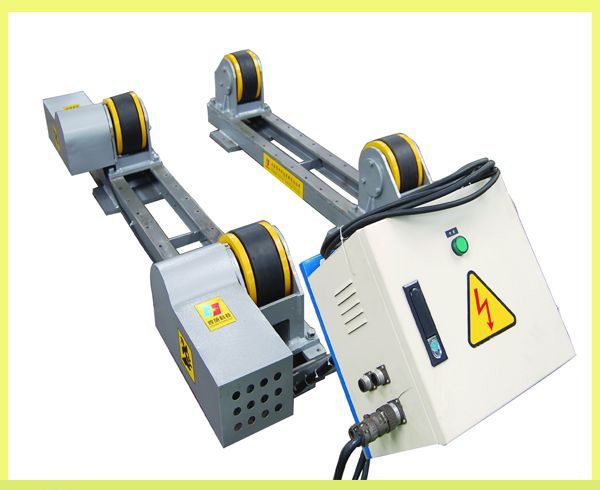 Composition and characteristics of the welding turning roller
1 The KT adjustable turning rolls include one power bed and one idle bed.The turning rolls below 40T adopt helical-worm &cycloidal pin wheel decelerator,and over 40T adopt cycloidal pin wheel or helical-worm decelerator.
2 The series turning rolls adopts screw to adjust,available for changes of workpiece diameter,simple structure and economy
3 The wheels are new combination style ,one rubber wheel and two steel wheels,with big load capacity ,big friction,strong drive and glue force
4 Imported transducer realized the stepless regulation with wide speed range ,high precision and big starting moment
5 The control system has the synchronized linkage interface with manipopulator and has remote controller ,easy and reliable.
ype

Load

(t)

Line speed

(mm/min)

Workpiece diameter(φ)

Wheel Size(mm)

Power(KW)

Size(mm)

Input voltage

Dia.

Wid.

L

W

H

KT-3

3

100-1000

250-2500

250

140

0.18*2

1977

468

375

Three-phase 380v

KT-5

5

100-1000

250-3000

250

140

0.25*2

2760

470

415

KT-10

10

100-1000

300-3500

300

170

0.37*2

2920

525

535

KT-20

20

100-1000

400-4500

350

180

0.55*2

3010

540

635

KT-30

30

100-1000

400-4500

350

180

0.75*2

3030

610

635

KT-40

40

100-1000

500-5000

400

200

0.75*2

3335

915

695

KT-50

50

100-1000

500-5000

450

220

1.10*2

3400

1055

810

KT-60

60

100-1000

500-5500

450

220

1.10*2

3570

1055

810

KT-80

80

100-1000

800-5500

500

240

1.50*2

3520

1130

900

KT-100

100

100-1000

800-5500

500

240

2.20*2

3450

1150

900

KT-200

200

100-1000

800-6000

600

240

2.20*2

4250

1190

1050

KT-300

300

100-1000

1000-6500

640

250

3.00*2

5400

1320

1150

KT-500

500

100-1000

1000-8000

700

300

5.50*2

6200

1580

1460

KT-800

800

100-1000

1000-8000

800

350

11.0*2

6880

1900

1825