The Welding Positioner who can rotate and tilt makes the makes the workpiece at the best welding position. It normally works with Welding Manipulator, special welding machines to realize the automatic welding of complicated workpieces. Our company has several series positioner: HB series single seat postioner, HBS series double-seat positioner, HBT series positioner, HBL series L-type positioner and SPH series turn-table.
HB-0.5 Single-Column Welding Positioner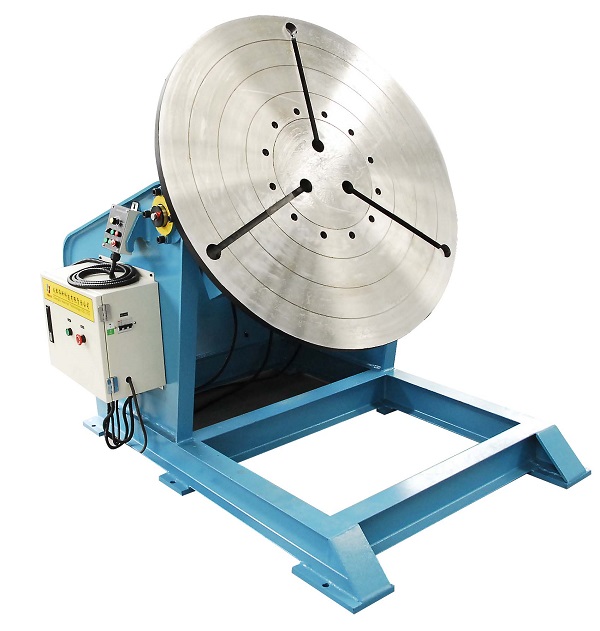 1 The positioner which has simple structure and high stability is mainly used with SAW machines.
2 Table rorating adopts imported transducer to raealized stepless regulation,wide speed range and stable operation.
3 Table tilting is drove by AC motor with helical-worm reducer and self lock function ,realized stable tilting.
4 The table is made by precision casting.There is T-type groove and ring type position line,available for locating and clamping work piece.
5 Operation is convenient by remote -control pendant.
6 Linkage on the control box can control with other welding equipments.
Main Technical Parameter
| | | | | | | | | | |
| --- | --- | --- | --- | --- | --- | --- | --- | --- | --- |
| Type | Load(t) | CG distance (mm) | Eccentric distance (mm) | Turning speed (R/min) | Tilt speed (r/min) | Tilt degree (°) | Working table diameter φ(min) | Voltage (V) | Input capacity (KVA) |
| HB-0.5 | 0.05 | 50 | 50 | 0.5-6 | 1.5 | 120 | 500 | 380 | 0.3 |
| HB-1 | 0.1 | 100 | 100 | 0.15-2.1 | 1 | 120 | 500 | 380 | 0.5 |
| HB-2.5 | 0.25 | 150 | 150 | 0.15-2.1 | 1 | 120 | 800 | 380 | 0.5 |
| HB-5 | 0.5 | 250 | 250 | 0.09-0.9 | 0.37 | 120 | 800 | 380 | 1 |
| HB-10 | 1 | 300 | 300 | 0.08-0.8 | 0.45 | 120 | 1200 | 380 | 2 |
| HB-20 | 2 | 300 | 300 | 0.08-0.8 | 0.33 | 120 | 1200 | 380 | 4 |
| HB-30 | 3 | 300 | 300 | 0.07-0.7 | 0.39 | 120 | 1400 | 380 | 4 |
| HB-40 | 4 | 300 | 300 | 0.05-0.5 | 0.33 | 120 | 1400 | 380 | 4 |
| HB-50 | 5 | 400 | 250 | 0.05-0.5 | 0.33 | 120 | 1600 | 380 | 6 |
| HB-80 | 8 | 400 | 250 | 0.05-0.5 | 0.23 | 120 | 1600 | 380 | 8 |
| HB-100 | 10 | 400 | 250 | 0.05-0.5 | 0.23 | 120 | 1800 | | |